Developing of websites on Drupal.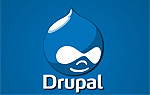 We develop websites on Drupal.
Drupal is a popular platform for creation of websites, this system created by thousands developers all over the world.
The main advantage of Drupal is that its relatively small software core allows to extend the functional with broad range of modules, aimed at solution of different tasks. Combining different Drupal modules, it is possible to create a portal, Internet-shop, catalogue, corporate site, social network or something else according to your wish.
Apart from the broad functional, the system is noted for its reliability.
On the base of Drupal the following sites work:
and many other sites...

In case, You already have a Drupal-based site we can offer the renewal or support of the site, answer the questions and consult about work with this system.
If You don't have your site yet or You are thinking about the renewal of the existing site, we recommend to use Drupal, and we will help install and master the system.